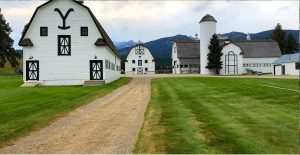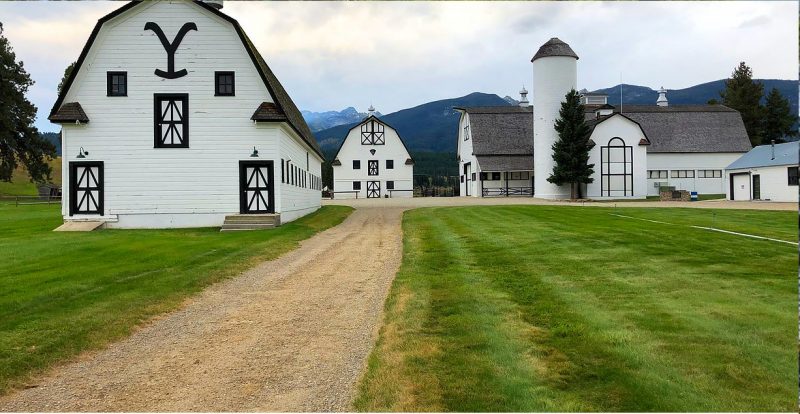 Yellowstone is once again one of the most popular shows on television. Season 3  of the Paramount Network's blockbuster began airing this week, and people are excited to see what awaits the Dutton family and their sprawling Montana ranch. I am fascinated with the show, for its story line and also for the beauty of the landscapes where it is set.
As a land broker, I had to know more about the place where this show is portrayed. The Yellowstone Dutton Ranch is really known as the Chief Joseph Ranch, which is located in Darby, Montana. Darby is a town of about 720 people,  located about 4 hours west of Bozeman, and about an hour south of Missoula in Montana's famed Bitterroot Valley.
The Chief Joseph Ranch is the setting for most of the show's indoor scenes at the lodge, barns, bunkhouse, and trapper's cabin. The rustic 5000 square foot stone and wooden lodge was built circa 1917 by William Ford, and is renowned for its history and architecture. The lodge has been featured in many publications through the years, including:  Architectural Digest, New York Times, and Good House Keeping to name just a few. The Lodge was built in the same style as the Old Faithful Inn in Yellowstone National Park and the Lodges at Glacier National Park. 
The Chief Joseph Ranch is approximately 2500 acres, and is a working guest ranch. When Yellowstone is not filming at Chief Joseph Ranch, they make cabins available for guests to rent. The Bitterroot Valley boasts many attractions for the public to enjoy, and they feature the Chief Joseph Ranch among those attractions. Here is a video of the grounds and some hay cutting and baling on the Chief Joseph Ranch from a few years ago.
If you are a fan of the show, I hope you find this information explains more about the place where the show is filmed. If you are looking for land for sale in Alabama, please let me know how I can be helpful to you. I have many great pieces of rural property for sale around Alabama, and will be happy to help you find the place that suits you. Please contact me today for all of your land needs.
This article was written by Jonathan Goode, land broker with Southeastern Land Group. Jonathan serves people buying and selling land in Alabama and Mississippi, and is co-host of the weekly radio show and podcast "The Land Show".